Photo courtesy of Motorsport Images
Max Verstappen won the pole for the 2022 Abu Dhabi Grand Prix on Saturday, the third-consecutive time he has won pole at the Yas Marina Circuit.
The Dutchman returns to the track where he won his first World Driver's Championship last season, passing Lewis Hamilton on the final lap (albeit in well-documented controversial fashion). In Q3, his final time of 1:23.8 was the only lap run under 1:24.
He finished the job after strong runs in practice, finishing with the fastest lap in the second practice and was second fastest in the third practice session.
His teammate, Sergio Perez, who finished fastest in the third practice session, helped lock up the front row for Red Bull Racing by going second fastest in Q3.
This feat comes merely one week after a tension-filled Brazilian Grand Prix where Verstappen refused to give up his sixth-place position to Perez, who needed all the points he could get in his battle for second place in the WDC with Charles Leclerc.
Time will tell how the relationship between Verstappen and Perez will stand entering 2023 but for now, the two will share the front row.
Perez will start ahead of Leclerc in third. The two drivers are tied for second in the WDC with 290 points each. Leclerc currently has the tiebreaker with his three wins in 2022 compared to Perez's two wins.
Carlos Sainz will start fourth for Ferrari. He finished third in last year's infamous Abu Dhabi Grand Prix.
Mercedes started the Brazilian Grand Prix 1-2 with George Russell picking up his first-career win in Formula 1. This week, Mercedes returns to a familiar position in 2022, fifth and sixth. Hamilton and Russell compose the third row in fifth and sixth respectively.
Hamilton will now officially end 2022 without a single pole, breaking his record of 15 consecutive seasons with at least one pole.
Lando Norris will start seventh and Esteban Ocon will roll out in eighth place. Those positions match their spot in the WDC.
As important as second place is in the WDC, the most important storyline for the 2022 Abu Dhabi Grand Prix is the race being the last for four-time world champion Sebastian Vettel.
Super Seb! 👍#AbuDhabiGP @AstonMartinF1 pic.twitter.com/OrHcwVRBhT

— Formula 1 (@F1) November 19, 2022
In the last qualifying session of his career, Vettel dragged his Aston Martin car into Q3, equaling his best qualifying result of the season of ninth place.
Vettel will end his career (barring a miracle win or podium on Sunday of course) with 53 wins, 122 podium finishes and 57 pole positions. However, he has also made a huge impact off the track, fighting for social justice and other important causes while building friendships that will last a lifetime.
This was exemplified on Thursday night as his friend, Hamilton, put together and paid for a dinner where the entire 2022 starting grid came together to celebrate Vettel's legendary career.
An unforgettable night pic.twitter.com/5NMeYWfm4j

— Lewis Hamilton (@LewisHamilton) November 17, 2022
Fernando Alonso rounded out the top 10 qualifiers.
Mick Schumacher will line up in 12th place for his last race with Haas F1 Team.
Daniel Ricciardo will start 13th after a three-place grid penalty for causing a collision with Kevin Magnussen in Brazil last Sunday. It is his final race for McLaren as Ricciardo will become Red Bull's reserve driver next season.
In his final race for Williams Racing, Nicholas Latifi will start at the back of the grid.
If you are watching in the United States, coverage for the 2022 Abu Dhabi Grand Prix will begin at 8:00 a.m. EST. The race will run 58 laps over 3.281 miles each. You can catch the race on ESPN2.
Starting grid: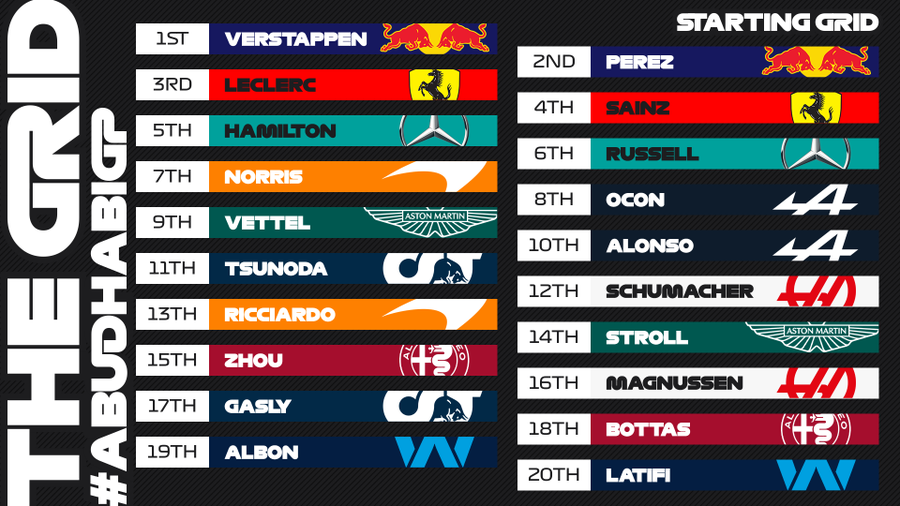 Track layout: 
Global start times: