Photo courtesy of Formula 1
For the second year in a row, the sprint race for the Brazilian Grand Prix at Interlagos saw a ton of on-track action that benefitted Mercedes greatly. On Saturday, "Mr. Saturday" himself, George Russell, passed champion Max Verstappen on Lap 15 to claim his first-career sprint race victory.
George Russell 🆚 Max Verstappen 🤤

What a show these two put on for us! 👏👏👏#BrazilGP #F1Sprint pic.twitter.com/N4whrZXxqq

— Formula 1 (@F1) November 12, 2022
"It's crazy to think we're both starting on the front row," Russell said. "We're in a luxury position where we can maybe split the strategy and go for the win."
On pole for the sprint race was none other than Kevin Magnussen. When the rain started coming down during Q3, Magnussen was on top when Russell crashed into Turn 4, causing a red flag. As the rain picked up, the other drivers could not even come close to Magnussen's time and he was awarded his first-career pole in Formula 1.
Haas F1 Team won their first pole and it was the first time an American constructor achieved pole position in F1 since Tom Pryce won pole for Shadow at Silverstone in 1975.
Magnussen struggled to keep up with the top-seven drivers in the World Driver's Championship standings on pace and was passed by all of them during the sprint race. Alas, Magnussen achieved one point for his eighth-place finish.
Verstappen started second for the sprint race and passed Magnussen for the lead on Lap 3. However, his Red Bull Racing car seemed to lack pace against Mercedes and Ferrari as Carlos Sainz and Lewis Hamilton passed him on laps 19 and 20 respectively.
Carlos Sainz and Max Verstappen make contact! 🤯

And the Red Bull driver comes off worse for wear 😩#BrazilGP #F1Sprint pic.twitter.com/yucypVNKrV

— Formula 1 (@F1) November 12, 2022
"Mercedes look unbeatable," Verstappen said. And no, that is not a quote from 2020.
The Dutchman made contact with Sainz after the Ferrari driver passed him, causing him left-wing damage that allowed Hamilton, last year's Brazilian Grand Prix winner, to cruise past his 2021 championship rival.
Since Sainz is taking a five-place grid penalty for adding additional power-unit elements, Mercedes will have their first front-row lockup since the 2021 Saudi Arabian Grand Prix, the last race that Hamilton and Mercedes won.
Russell is lining up on pole position for Sunday's race for the first time since winning pole at Hungary this year.
Verstappen and Sergio Perez will line up third and fourth.
Lando Norris will start sixth, sandwiching Charles Leclerc and Sainz, who will roll out in fifth and seventh respectively.
Sebastian Vettel gained four positions in the sprint race despite reckless driving from teammate Lance Stroll (the Canadian driver was given a 10-second penalty for weaving on Lap 9, causing Vettel to be pushed off the track). In the penultimate race of his legendary Formula 1 career, Vettel will start ninth.
Pierre Gasly will round out the top 10 starters.
His future team, Alpine, suffered a horrific Saturday as at the end of Lap 1, Fernando Alonso collided with teammate Esteban Ocon, causing wing damage that forced him to pit. Ocon after the race had his car ignite on fire in the pit lane. Ocon and Alonso will start 17th and 18th on Sunday.
If you are watching in the United States, coverage for the 2022 Brazilian Grand Prix will begin at 1:00 p.m. EST. The race will run 71 laps over 2.677 miles. You can catch the race on ABC.
Starting grid: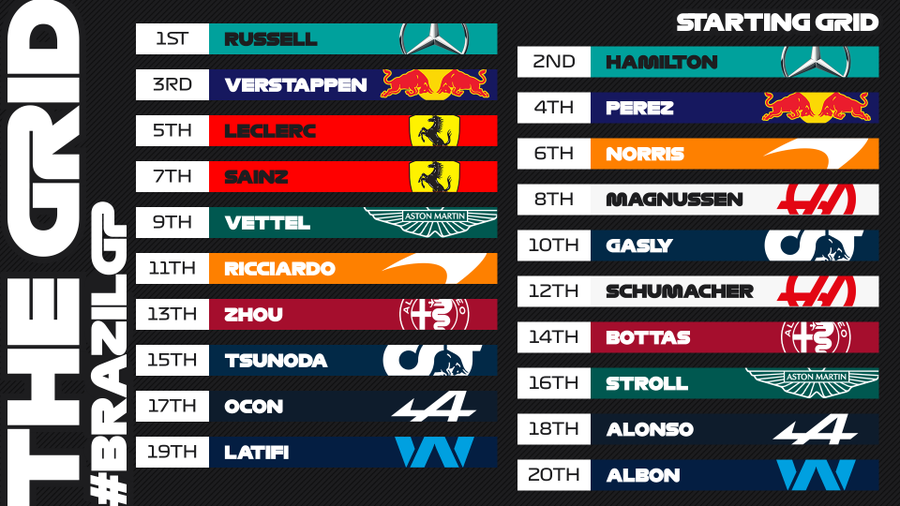 Track layout:
Global start times: