Photo courtesy of Formula 1
George Russell has impressed in his first season with Mercedes, achieving more points than Lewis Hamilton in a year where Mercedes has been the third-fastest team on the grid.
One day after winning the sprint race for the Brazilian Grand Prix at Interlagos, Russell held serve in the lead amidst a chaotic race in Brazil for his first-career win in his Formula 1 career.
Over the final 12 laps, Russell had to hold off teammate Lewis Hamilton, who was ready to pounce on his teammate if Russell made a single mistake. Russell did not, posting faster Sector 2 times than Hamilton and won the race by 1.529 seconds.
The race saw multiple collisions with drivers in the top 10.
Kevin Magnussen, who earned Haas F1 Team's first-ever pole on Friday, started the race in eighth place, spun in the middle sector and took out Daniel Ricciardo in the process. Both drivers suffered a DNF.
After the safety car restart, insanity broke out as on Turn 2, Max Verstappen and Hamilton turned the clocks back a year and collided with each other. Hamilton suffered minimal damage and Verstappen suffered wing damage. The Dutchman was given a five-second time penalty, adding onto the ensuing as his car needed repairs.
Hamilton on that clash with Verstappen: "What can I say? You know how it is with Max." #F1 #BrazilGP

— Chris Medland (@ChrisMedlandF1) November 13, 2022
Later on Lap 7, Lando Norris made contact with Charles Leclerc in the middle sector, causing the Ferrari driver to pit. Norris was also given a five-second time penalty while both Verstappen and Leclerc had to perform damage control.
Norris stalled on the track on Lap 52, bringing out the Virtual Safety Car.
Carlos Sainz was running in second place before the VSC, but lost the position after Hamilton, who recovered from eighth place after colliding with Verstappen, overcut him with a free pit stop.
This left Sainz and Perez to battle for the final podium spot, in which the Ferrari driver beat the Red Bull Racing driver on Lap 63. After this, Perez started rapidly losing positions.
Sainz grabbed the final podium spot, his 10th of the season while Hamilton grabbed his third in a row with a second-place finish.
Leclerc and Verstappen blazed their way past the midfield and worked their way up into the points positions. Fernando Alonso, who started 18th, passed Perez for fifth place on Lap 67 as did Leclerc two laps prior.
This is where controversy ensued.
Verstappen, who wrapped up the championship weeks ago, passed Perez for sixth place. On the final lap, Perez was trying to get the place back from his teammate to get two more points, but Verstappen said no.
Verstappen radio shows he was asked again on the last lap to let Perez through. Replies that he told the team he wouldn't previously:

"Are we clear about that? I gave my reasons, and I stuck by it."

That is not going to go down well with Perez #F1 #BrazilGP

— Chris Medland (@ChrisMedlandF1) November 13, 2022
Perez came home to finish seventh and Leclerc finished fourth, meaning that heading into next week's season finale in Abu Dhabi, Leclerc and Perez are tied for second place in the WDC standings.
"I don't understand why Max didn't give me the position after all I've done for him. If he has two championships it is because of me" Checo post race interview #BrazilGP

— Sergio P (@serpulga) November 13, 2022
Alonso came home for a fifth-place finish one day after wrecking in the sprint race, his best result since fifth place at Spa.
His teammate, Esteban Ocon finished eighth. Valtteri Bottas came home to finish ninth after a strong start that saw him run in the top six for the first part of the race.
Lance Stroll rounded out the top 10.
The 2022 Formula 1 season heads to the Yas Marina Circuit for the 2022 Abu Dhabi Grand Prix, the final race of the season next Sunday. The race will begin at 8:00 a.m. EST on ESPN. Please no controversy this time around… please?
Race results: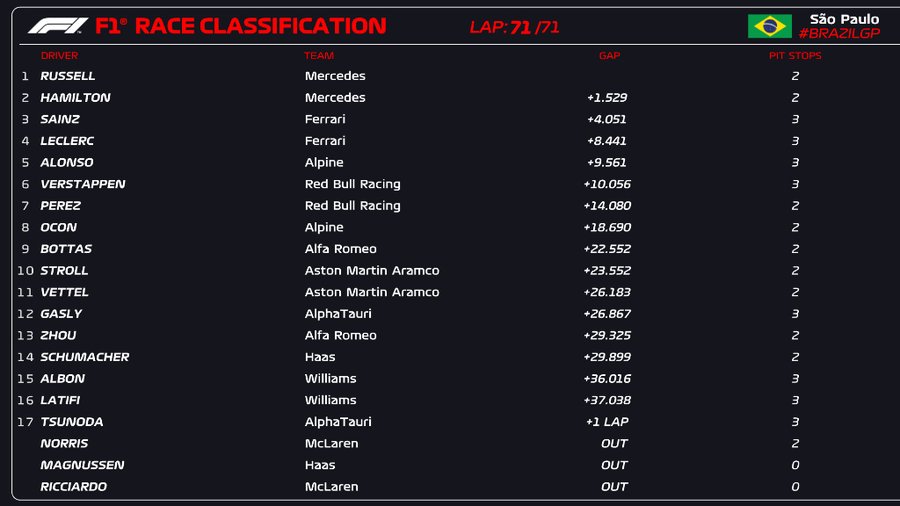 Top 10 points standings: