Photo by XPB Images
As the 2022 Formula 1 season heads to the western hemisphere for three consecutive races, one championship has been decided while the other one can be clinched on Sunday.
Two weeks ago at Suzuka, Max Verstappen dominated a rainy Japanese Grand Prix to wrap up his second-consecutive World Drivers' Championship. On Sunday during the United States Grand Prix at Circuit of the Americas, Red Bull Racing can wrap up the World Constructors' Championship.
All Red Bull needs to do is for Verstappen and Sergio Perez to not be outscored by 19 points or more by Charles Leclerc and Carlos Sainz at Ferrari and they win the WCC for the first time since 2013 when Sebastian Vettel and Mark Webber drove for the team. This scenario means that if Verstappen and Perez finished third and fourth, they will achieve the title.
Last year at COTA, it was another thrilling chapter in the epic title battle between Verstappen and Lewis Hamilton. Hamilton passed Verstappen on the first lap but Red Bull used the undercut to give Verstappen the advantage throughout the race on the first cycle of pit stops.
Hamilton had fresher tires at the end of the race and attempted to track down Verstappen, but fell short by a second.
Elsewhere during the race, Daniel Ricciardo, Lando Norris and Carlos Sainz went three-wide on the first lap with Ricciardo overtaking Sainz on Turn 18.
For the 10th edition of the US Grand Prix at COTA, Ferrari had never achieved pole position until Saturday when Sainz put on a brilliant lap in Q3 for his third career pole in F1. In his previous two poles at Silverstone and Spa, Sainz picked up his maiden F1 win and finished third respectively.
Five different drivers have picked up penalties for additional power unit elements and additional restricted-number components. The two most notable penalties were Leclerc (10 places) and Perez (five places). This means that the second and fourth-place qualifiers will now start 12th and ninth respectively.
Verstappen, who needs one more win to tie Vettel and Michael Schumacher's record of 13 race wins in a season, will start beside Sainz on the front row.
Lewis Hamilton and George Russell will start third and fourth respectively. Hamilton has outqualified Russell in every race since the summer break, but has not reached the podium since reaching it five times in a row in the five races before the summer break. Russell, on the other hand, has been on the podium twice since the summer break ended.
Lance Stroll dragged his Aston Martin car to Q3 on Saturday and after finishing seventh, Stroll will start in fifth place on Sunday with Leclerc and Perez's penalties. It is his best start since winning pole at the 2020 Turkish Grand Prix.
Lando Norris will start sixth. With his teammate Ricciardo and both Alpine drivers starting outside the top 10, his finish on Sunday could determine how close the race for fourth in the WCC is heading into the Mexican Grand Prix (Alpine leads McLaren by 13 points).
Valtteri Bottas will start seventh for his best start since starting at the same position during the Spanish Grand Prix back in May.
Alexander Albon will start eighth, only his second top-10 start for Williams Racing this season (started sixth at Spa after a myriad of grid penalties).
Vettel will round out the top 10 in his final US Grand Prix.
If you are watching in the United States, coverage for the US Grand Prix will begin at 3:00 p.m. EST. The race will run 56 laps over 3.425 miles. You can catch the race on ABC.
Starting grid: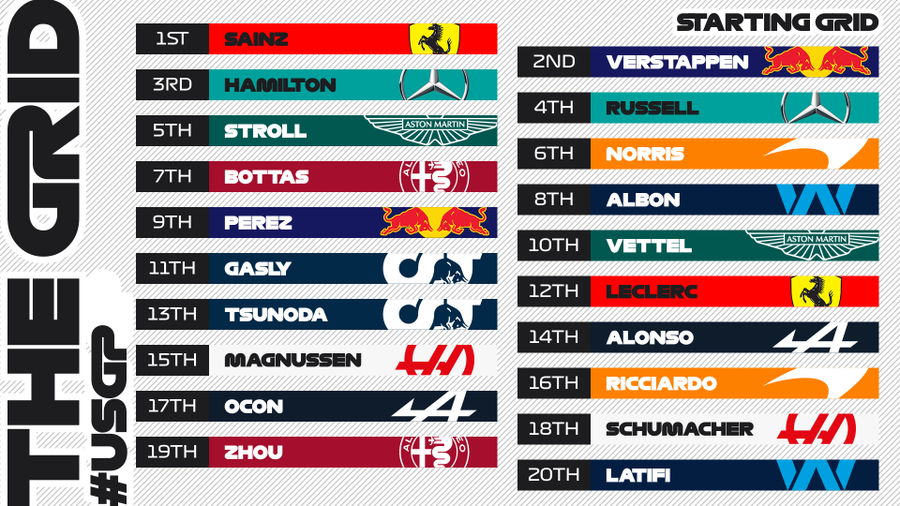 Track layout: 
Global start times: