Photo by AP
For the second week in a row, the 2022 Formula 1 season heads to a track in East Asia for the first time since 2019. Last week, it was the Singapore Grand Prix at Marina Bay. This week, F1 returns to Suzuka for the Japanese Grand Prix at the Suzuka International Racing Course.
2019 saw an action-packed Lap 1 with pole sitter Sebastian Vettel having a rough start, being promptly passed by third-place starter Valtteri Bottas. The Finnish driver passed Vettel on the outside and immediately took the lead, which he held for the remainder of the race to pick up his first win since that season's Azerbaijan Grand Prix.
Charles Leclerc turned Max Verstappen in Turn 2, causing both drivers to suffer wing damage. The Dutchman retired from the race and Leclerc was forced to restart from the back after getting repairs. He eventually worked his way up to sixth place.
Vettel held off that season's champion, Lewis Hamilton, for second place after a late safety car caused by Pierre Gasly turning Sergio Perez prevented final opportunities for a late pass.
Verstappen and Leclerc, who came together on the first lap in 2019, will be the two starters on the front row as Verstappen beat Leclerc for pole by 0.010 seconds.
After Sergio Perez passed Leclerc on the opening lap last week at Singapore, he put on his most complete performance to give himself his second race win of 2022. With this result, Leclerc and Perez are now separated by two points in the driver's standings.
During the Japanese Grand Prix, Verstappen can clinch the World Drivers' Championship if he outscores Leclerc by eight and Perez by six.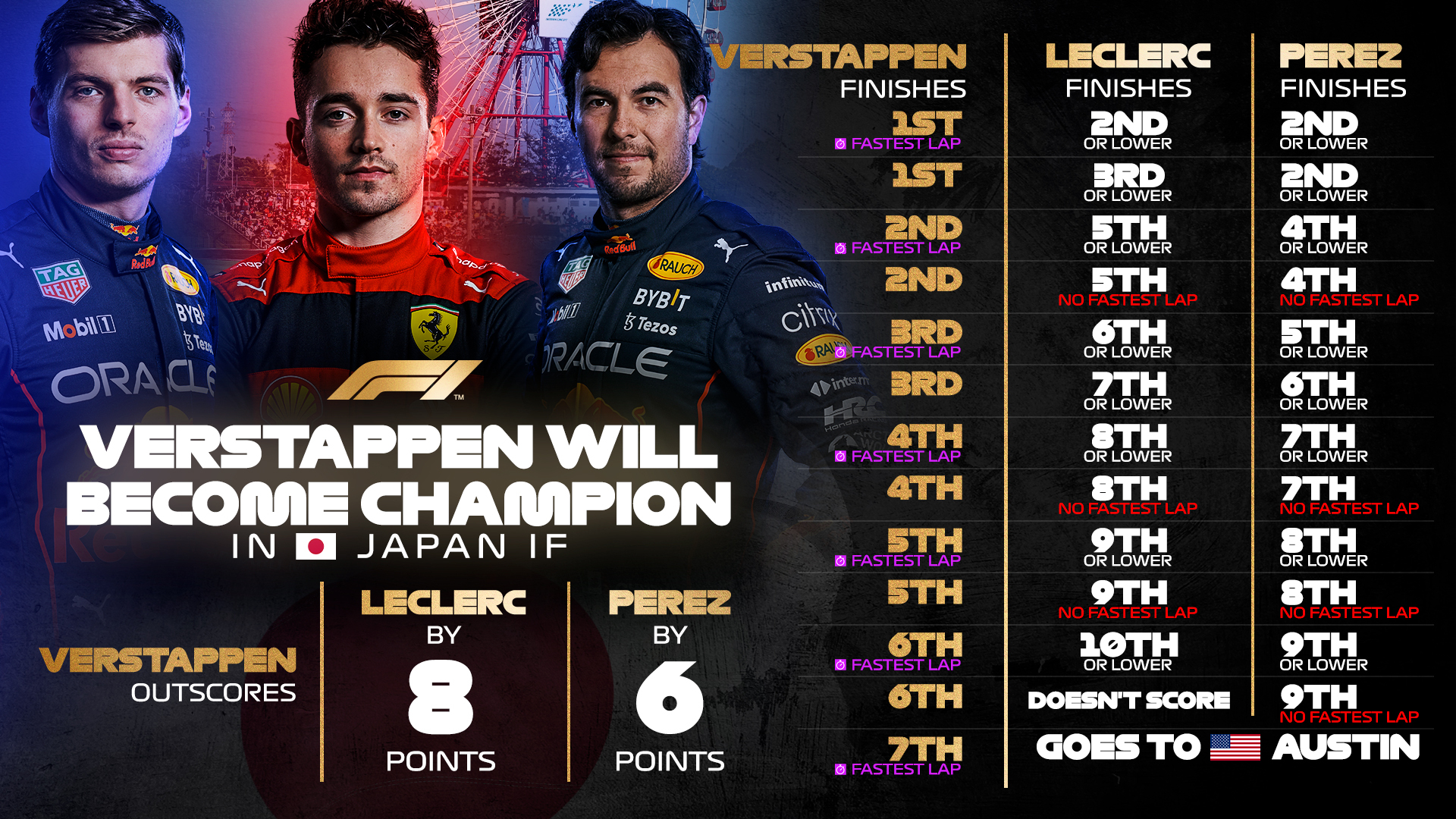 Perez starts fourth right beside Carlos Sainz in third place. Sainz finished in third place at Singapore to give Ferrari their first double podium since the Miami Grand Prix.
Esteban Ocon will start fifth after Alpine announced that he will be paired with fellow French F1 driver Pierre Gasly for the 2023 season.  Gasly missed Q2 and will have to start from the pitlane after AlphaTauri made changes to his rear win and suspension.
Pierre Gasly will start the race from the pit lane – AlphaTauri changed rear wing spec and his rear suspension set-up after qualifying #F1 #JapaneseGP

— Luke Smith (@LukeSmithF1) October 9, 2022
Lewis Hamilton and George Russell will start sixth and eighth respectively. Hamilton has won at the track four times in his career (2014, 2015, 2017 and 2018) while Russell will make his second start at the track (last in 2019).
Fernando Alonso, the 2006 Japanese Grand Prix winner, will start seventh. With Lando Norris and Daniel Ricciardo starting 10th and 11th respectively, Alpine is hoping to take the lead once again for fourth place in the World Constructors' Championship as McLaren leads by four points.
Sebastian Vettel, who won at the track in 2009, 2010, 2012 and 2013, will start ninth after dragging his Aston Martin car to Q3. Vettel has said that Suzuka is his favorite F1 track and has said he may return for one-off races at the track in the future if given the opportunity. 
Rain is in the forecast at Suzuka for Sunday's race. FP1 was a wet session, but the track got drier as the sessions went through the weekend, leaving the track dry on Saturday. A rolling start is considered to be put into effect by the FIA.
With rain coming in, the FIA has issued a clarification of how it will interpret wording if it needs to implement a rolling start.

The grid is downhill here and could be uneven in terms of wet / dry, or it could rain heavily, but it's not a commitment to a rolling start yet #F1

— Chris Medland (@ChrisMedlandF1) October 9, 2022
If you are watching in the United States, coverage for the 2022 Japanese Grand Prix will begin at 1:00 a.m. EST. The race will run 53 laps spanning 3.608 miles each. You can catch the race on ESPN2.
Starting grid: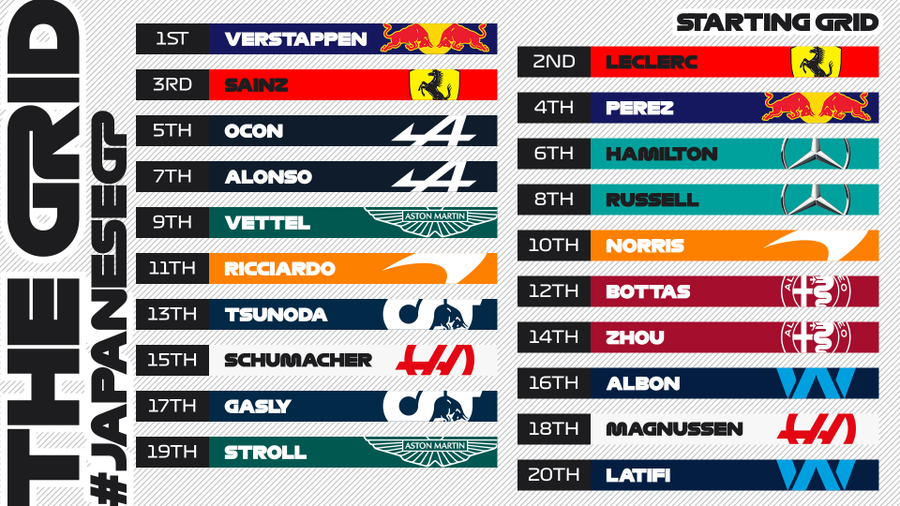 Track layout: 
Global start times: