Photo courtesy of Chris Graythen | Getty Images
Noah Gragson won the Andy's Frozen Custard 300 on Saturday at Texas Motor Speedway to open the Xfinity Series Round of 12 in the postseason, locking him into the Round of 8.
Gragson came home for the victory in the fourth-consecutive race, tying Sam Ard's record for winning his fourth-straight win in the Xfinity Series (1983), the only two drivers to ever accomplish that feat.
RETWEET to congratulate @NoahGragson!

FOUR WINS IN A ROW, tying a @NASCAR_Xfinity Series record! pic.twitter.com/7oUAciuOyd

— NASCAR on NBC (@NASCARonNBC) September 24, 2022
"Last year, I was standing with Justin Haley and we saw John Hunter (Nemechek) hoist the Andy's Custard trophy over his head," Gragson said. "He said, 'man I would have tried a little harder if I would have seen that trophy and knew what it was.' That made me motivated."
With 44 laps to go in the race, Gragson and Ty Gibbs were running first and second when they made their green flag pit stops. The No. 9 JR Motorsports crew allowed Gragson to win the race off pit road, cycling back to the lead after passing Jeb Burton with 11 laps to go.
"We got a badass Bass Pro Shops Team," Gragson said. "The car was as fast as Xfinity internet today."
A.J. Allmendinger and Josh Berry were the two playoff drivers that led after Gragson and Gibbs pitted, hoping to gain an advantage with a caution that never came late in the race.
They eventually finished fourth and sixth after making their final pit stop.
It was not the first time the regular season champion stayed out in an attempt to gain extra points. At the end of Stage 2 after a David Starr caution, Allmendinger stayed out as Gragson pitted from the lead to nab a stage win, his first since his March win at Circuit of the Americas.
Daniel Hemric played the same strategy in Stage 1 as he stayed out while the leaders, Gragson and John Hunter Nemechek, pitted with a few laps left in the stage. After entering the playoffs two points below the cutline, he stayed out and won the first stage for the first time since sweeping the stages during the opener at Daytona International Speedway.
The two stage winners were caught up in big wrecks during the final stage in what was a blistering hot afternoon at Texas.
First, with 90 laps to go, Allmendinger and many non-playoff drivers were caught up in a big wreck, forcing Allmendinger to work his way through the field throughout the final stage.
Chaos!

AJ Allmendinger gets into Brandon Brown, and the field stacks up behind them. #NASCARPlayoffs pic.twitter.com/w1gSxBDkfO

— NASCAR on NBC (@NASCARonNBC) September 24, 2022
Hemric, the other stage winner, was not so lucky on the next wreck.
Nemechek, who won last year's playoff race at Texas in the Xfinity Series, returned for Joe Gibbs Racing in the No. 18 part-time car, was toward the front for most of the race. However, with 84 laps to go, Nemechek got loose while battling for the lead in a four-wide line, causing him to wreck. The ensuing chaos took out Hemric, Justin Allgaier and pole sitter Brandon Jones, who spun on the first turn of the race.
HE'S IN THE WALL!

HUGE CRASH at @TXMotorSpeedway. #NASCARPlayoffs pic.twitter.com/kgwyhiXirn

— NASCAR on NBC (@NASCARonNBC) September 24, 2022
All three drivers, along with Jeremy Clements, were all playoff drivers that retired from the race.
This opened the door for Austin Hill, who ran a clean and competitive race, to snatch some extra points with a runner-up finish.
"It's nice to start it off right, but at the same time, if we won the race, we wouldn't have to worry about Talladega and the Roval," Hill said. "I thought the balance today was really well, I fought a little bit of a freeness on entry but it was a lot more stable than what we've had in the past."
One notable finish was C.J. McLaughlin picking up his first-career top-10 finish in his Xfinity Series career with a 10th-place result.
The 2022 NASCAR Xfinity Series playoffs will continue next week at Talladega Superspeedway for the Sparks 300 on Oct. 1 at 4:00 p.m. EST. You can catch that race on USA Network and Motor Racing Network.
NOTE: Post-race inspection in the NASCAR Xfinity Garage is complete. There were no issues, confirming Gragson as the winner. 
Official race results: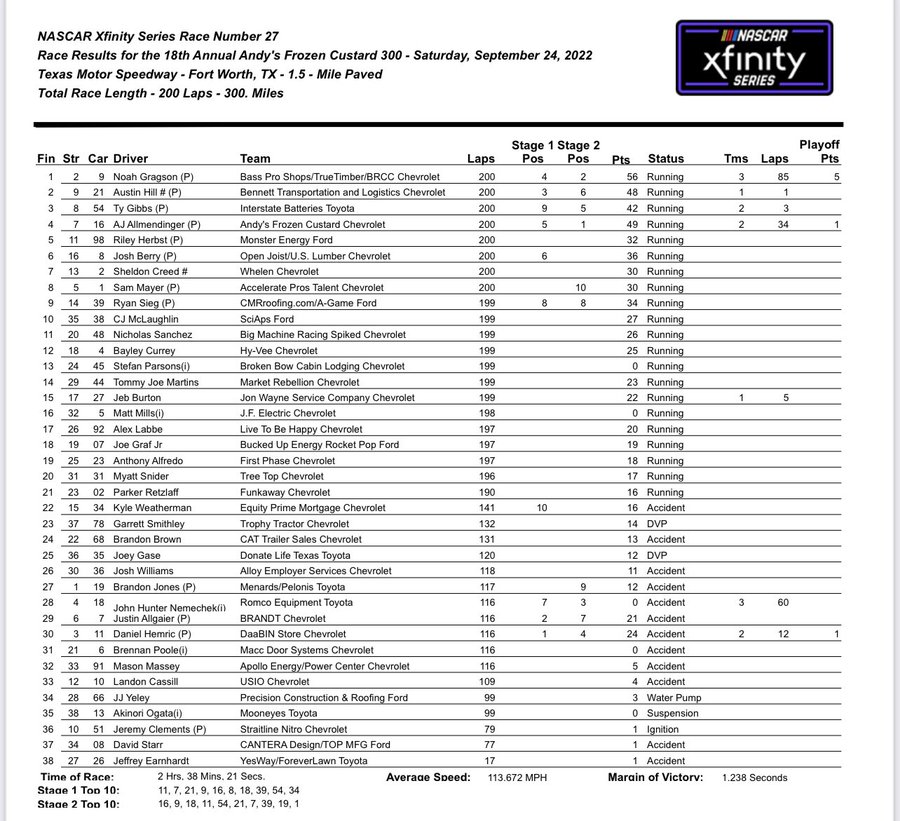 Official playoff standings:
Xfinity grid (Talladega, Charlotte road course to go): Gragson-in, Allmendinger +47, Gibbs +46, AHill +30, Berry +24, Allgaier +20, Mayer +1, Sieg +1, Herbst -1, Hemric -8, Jones -13, Clements -29 pic.twitter.com/FHfvux7jKk

— Bob Pockrass (@bobpockrass) September 24, 2022