Photo courtesy of Jared C. Tilton | Getty Images
Noah Gragson has taken over the 2022 NASCAR Xfinity Series season with three consecutive victories to end the regular season. As the postseason begins with the Andy's Frozen Custard 300 at Texas Motor Speedway, Gragson is considered the favorite to come away with the championship at Phoenix Raceway on Nov. 5.
For the second September in a row, Gragson ended the regular season on a strong note as last season, he won at Darlington Raceway and Richmond Raceway en route to the Championship 4.
This time around, he won a thrilling three-way battle at Darlington, came out on top in a rain-shortened race at Kansas Speedway and held off Brandon Jones for the win at Bristol Motor Speedway.
He has a 46-point cushion as the Round of 12 begin at Texas and he'll roll out third.
Gragson will start beside poll sitter Jones, who finished second at Bristol. Jones achieved pole for the third time in the last four races and the seventh time this season. He starts the postseason five points above the cutline and has a victory this season at Martinsville Speedway.
The defending champion, Daniel Hemric, will line up third. He has yet to win in 2022 with Kaulig Racing and begins the playoffs two points below the cutline. Hemric has only achieved two top-five finishes this season.
John Hunter Nemechek will line up fourth. He won last year's Xfinity Series playoff race at Texas in the No. 54 Joe Gibbs Racing. This time around, he will race in the No. 18 JGR car, where he has three top-five finishes in nine races.
Rounding out the top-five qualifiers is Sam Mayer, who has zero wins in 2022, but made his way into the playoffs in his first full-time season with JR Motorsports. He has nine top-five finishes and 14 top-10 finishes. His best finish in 2022 was third three times (Texas, Charlotte and Richmond).
Back in May, two-time series champion Tyler Reddick won at Texas in the No. 48 Big Machine Racing car. This time around, ARCA Menards Series driver Nick Sanchez will race in that car. The three-time 2022 ARCA winner debuted in the car last week at Bristol, finishing 29th. He'll roll out in 20th.
The playoff picture received a shakeup at Daytona International Speedway in last August as a wreck-filled race allowed Jeremy Clements to swoop in and win his second-career Xfinity Series race, locking him into the playoffs.
He was levied L2 penalties after the race and lost the ability to make the playoffs with his win. However, Clements won his appeal and will start the postseason right at the cutline, eliminating Landon Cassill. He'll begin Saturday's race at Texas in 10th.
Coverage for the Andy's Frozen Custard 300 at Texas will begin at 3:30 p.m. EST. The stages will run through laps 45, 90 and 200. You can catch the race on USA Network and the Performance Racing Network.
Starting lineup: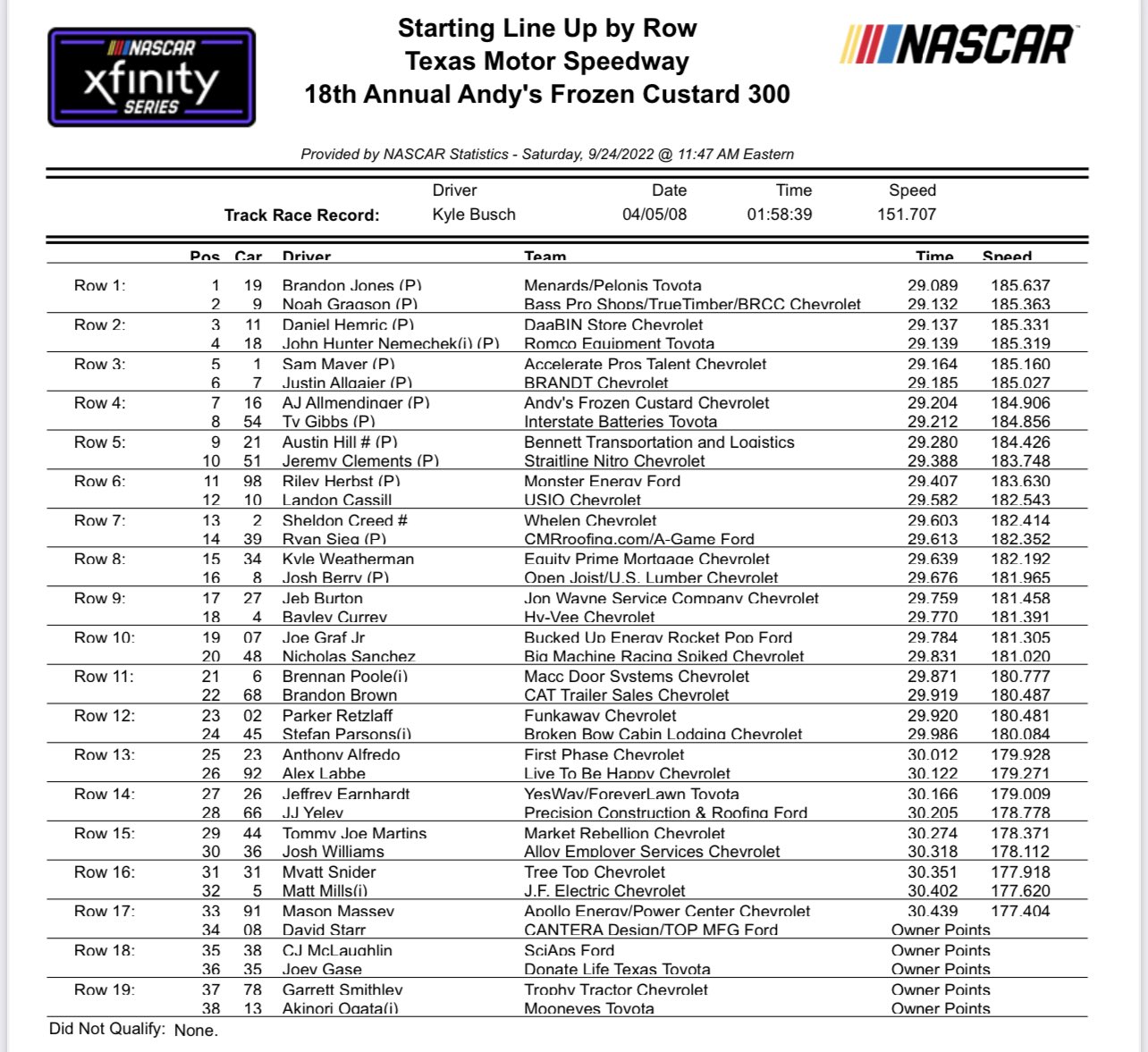 Pit stall assignments: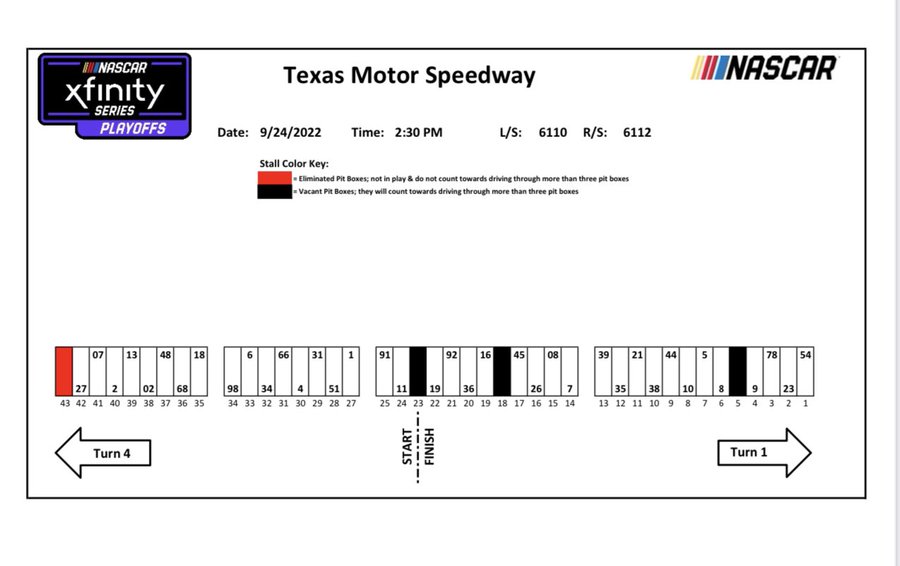 Goodyear tire notes:
GOODYEAR TIRE NOTES NASCAR Xfinity Series – Race No. 27 –  200 laps / 300 milesTexas Motor Speedway (1.5-mile oval) – Fort Worth, Tex.
Fast Facts for September 24, 2022 Tire: Goodyear Eagle 15-inch Speedway Radials
Set limits: Xfinity: 6 sets for the event
Tire Codes: Left-side — D-6110; Right-side — D-6112
Tire Circumference: Left-side — 2,225 mm (87.60 in.); Right-side — 2,250 mm (88.58 in.)
Minimum Recommended Inflation: Left Front — 19 psi; Left Rear – 19 psi; Right Front — 52 psi; Right Rear — 48 psi
Notes – Xfinity Series returns to Texas on spring tire set-up: Being on 15-inch bead diameter tires, NASCAR Xfinity teams will run a different tire set-up than those in the Cup Series . . . this is the same combination of left- and right-side tires these teams ran at Texas in May . . . they have also run this tire set-up at Las Vegas, Michigan and Kansas this season. . . as on all NASCAR ovals greater than one mile in length, teams are required to run inner liners in all four tire positions at Texas . . . air pressure in those inner liners should be 12-25 psi greater than that of the outer tire.
— Goodyear Racing —