Photo courtesy of Dan Istitene | Formula 1 via Getty Images
The story of the 2022 Formula 1 season has been the pure incompetence of Ferrari, a team who has developed a car to challenge Red Bull Racing on pace, but has fallen far behind due to bad strategy calls, human error and faulty engines.
Now, Ferrari heads to Monza, "The Temple of Speed," for its home race. Will Ferrari give their fans something to cheer about for a week, or will the issues continue and throw away another chance for victory in 2022?
Charles Leclerc won pole outright on Saturday for the eighth time in 2022, becoming the first Ferrari driver to accomplish eight poles in a single season since Michael Schumacher in 2004. He has only coverted two poles into wins in 2022 (Bahrain and Australia). He converted a pole to a win at Monza in 2019 after holding off both Mercedes drivers throughout the race.
One huge aspect of the weekend at Monza, similar to Spa, will be a bunch of drivers taking new engine components and starting at the back of the grid. Carlos Sainz and Lewis Hamilton qualified P3 and P5 respectively, but will have to start at the back of the grid in P18 and P19 with new engines.
Sergio Perez, who finished Q3 in P4, will take a 10-place grid penalty and will drop back to P13 (Sainz's drop moves Perez up one spot) on the starting grid. He and Leclerc are tied for P2 in the driver's championship with 201 points.
The leader in the championship standings by 109 points is Max Verstappen, who has won the last four races. He won last week in his home race at Zandvoort after thwarting Mercedes' best attempts to defeat him.
Monza has not been kind to the Dutchman as his best result at the track was P5 in 2018, back when Daniel Ricciardo was his Red Bull Racing teammate. He DNF'd the past two seasons at Monza, including a collision with title rival Hamilton last season where his car ended up on top of the Mercedes car in Turn 2.
Verstappen qualified P2, but has to drop back to P7 on the starting grid after adding additional engine components. He started P14 at Spa with a new power unit, but ended up dominating the race and won by nearly 20 seconds.
With all these drivers (Esteban Ocon and Mick Schumacher as well) moving toward the back, that has allowed other drivers to vastly improve their starting position. George Russell will start beside Leclerc on the front row after qualifying P6. He achieved a third-place finish at Hungary after winning his first-career pole.
Lando Norris, who finished P2 a season ago at Monza, will start P3.
Starting fourth and fifth are two drivers who have pulled off stunning upset victories at the track in the last two seasons: Daniel Ricciardo and Pierre Gasly.
Last season, Ricciardo passed Verstappen on the first lap to take the lead after using the sprint race to start P2. Once Hamilton and Verstappen crashed out of the race, the two McLaren drivers passed Leclerc for the lead and finished 1-2.
In 2020, Gasly gave us all a feel-good story to smile about during a very trying time in human history. After Hamilton suffered a 10-second time penalty while pitting on pit road when it was closed, Gasly was able to gain positions on restarts and held off Sainz for the victory. In both instances, a McLaren driver finished P2.
Fernando Alonso will start P6. He has gained points in the last 10 races, the second-longest streak in F1 behind Verstappen's 12-race streak.
Dutch driver Nyck de Vries will take over for Alexander Albon, who finished 10th in FP2, for the race on Sunday after the Thai driver was taken to the hospital on Saturday to undergo treatment for appendicitis.
On short notice, de Vries put the Williams Racing car into Q2 and outqualified teammate Nicholas Latifi. Due to the various grid penalties, de Vries will make his Formula 1 Grand Prix debut at Monza in P8.
Zhou Guanyu and Latifi will start P9 and P10 respectively. The Chinese driver has two points finishes (P10 at Bahrain and P8 at Montreal) while Latifi is the only driver on the full-time starting grid to not have scored a point this season.
If you are watching in the United States, coverage for the 2022 Italian Grand Prix will begin at 9:00 a.m. EST. The race will run 53 laps, each covering 3.599 miles. You can catch the race on ESPN.
Starting grid: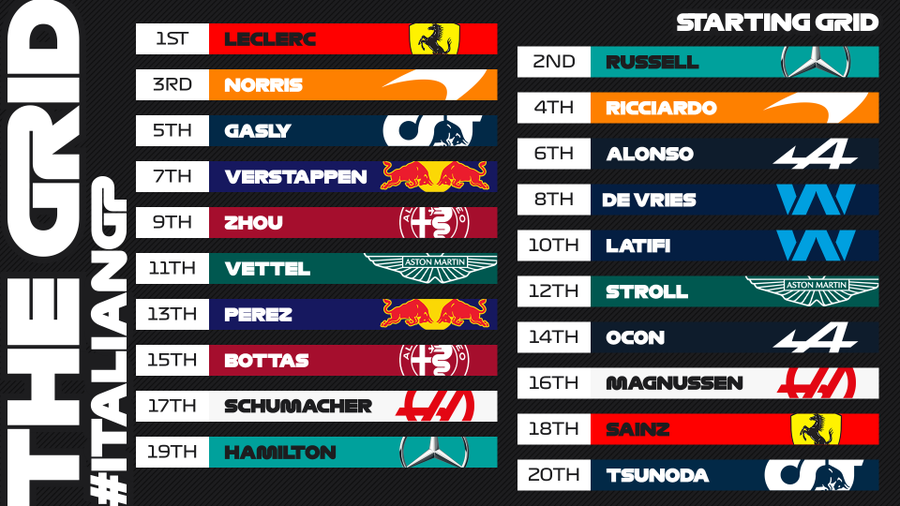 Track layout:
Global start times: