Photo courtesy of Formula 1
Max Verstappen has ruled this Formula 1 season after winning the 2021 World Driver's Championship amidst well-documented controversy. In 2022, he has left no doubt of who the champion is with nine wins in 14 races as he leads the championship race by 93 points. 
Last week at Belgium, Verstappen completely dominated to win the Belgian Grand Prix despite starting in P14. It is only fitting that the Dutchman receives a royal homecoming for his home race at Zandvoort as Dutch fans have shown up in droves with their orange shirts and flares. 
The hype and passion has been so surreal that flares were thrown onto the track during Q2, causing a red flag before the start of the session. Verstappen gave the fans a show last year as Zandvoort returned to the calendar for the first time since 1985. He dominated to win by nearly 21 seconds over championship rival Lewis Hamilton. 
Verstappen provided more excitement for his home fans as he edged out Charles Leclerc in Q3 to win pole for the fourth time in 2022 and for a second-straight time at Zandvoort. 
However, any opposition to his pole position went unchallenged as Sergio Perez crashed to end Q3, halting promising final flying laps from Carlos Sainz and both Mercedes drivers. 
In the end, Charles Leclerc will start beside Verstappen on the front row for the seventh time in 2022. Last week at Spa, Leclerc suffered more bad luck this season as he pitted from P5 to get fresh tires to steal the fastest lap of the race from Verstappen. 
Doing this allowed Alpine driver Fernando Alonso to pass him off pit road. While Leclerc did eventually pass him on the final lap, Verstappen's final lap was faster than Leclerc's and the Ferrari driver was hit with a five-second time penalty for speeding on pit road, resulting in a P6 finish for the Monegasque driver. 
This dropped him out of the P2 position in the championship standings and he currently sits 98 points behind Verstappen, who he led by 34 points after the Australian Grand Prix. 
Sainz will start P3 after starting on pole at Spa last week (Verstappen won pole but had to drop to the rear for an engine change). He came home to finish on the final podium spot with a safety car allowing the speedy Verstappen to restart closer to the Spanish driver while he started out front. 
Hamilton and George Russell could not finish their final flying laps in qualifying, forcing them to start P4 and P6 respectively. Mercedes has not won a race since the 2021 Saudi Arabian Grand Prix, but due to Ferrari's consistent incompetency, the German team sits only 31 points behind them in the constructor's standings. Hamilton finished P2 behind Verstappen at Zandvoort last season. 
Perez will start P5 after crashing at the end of Q3. Due to his second-place finish at Spa, Perez has jumped Leclerc by five points for P2 in the driver's standings. 
Lando Norris will start P7 in what has been a headline week for McLaren. On Friday, the team announced they are signing 2021 F2 champion Oscar Piastri to replace Daniel Ricciardo for the 2023 season. This is a week after McLaren announced that Ricciardo will not return to the team next year despite having one more year left on his deal. Ricciardo missed Q2 on Saturday and will start P17. 
Mick Schumacher will start P8, his second-highest start of the season behind a P6 result in Q3 at Montreal. This week, Estaban Ocon revealed that he prefers Schumacher to be Alpine's second driver in 2023 after Fernando Alonso's surprise departure to Aston Martin in August.
Yuki Tsunoda will start P9 for his fourth top-10 start of the season.
Lance Stroll rounds out the top 10 for his third top-10 start of the 2022 season. 
If you are watching in the United States, coverage for the 2022 Dutch Grand Prix will begin at 9:00 a.m. EST. The race will span 72 laps over 2.646 miles. You can catch the race on ESPN.
Starting grid: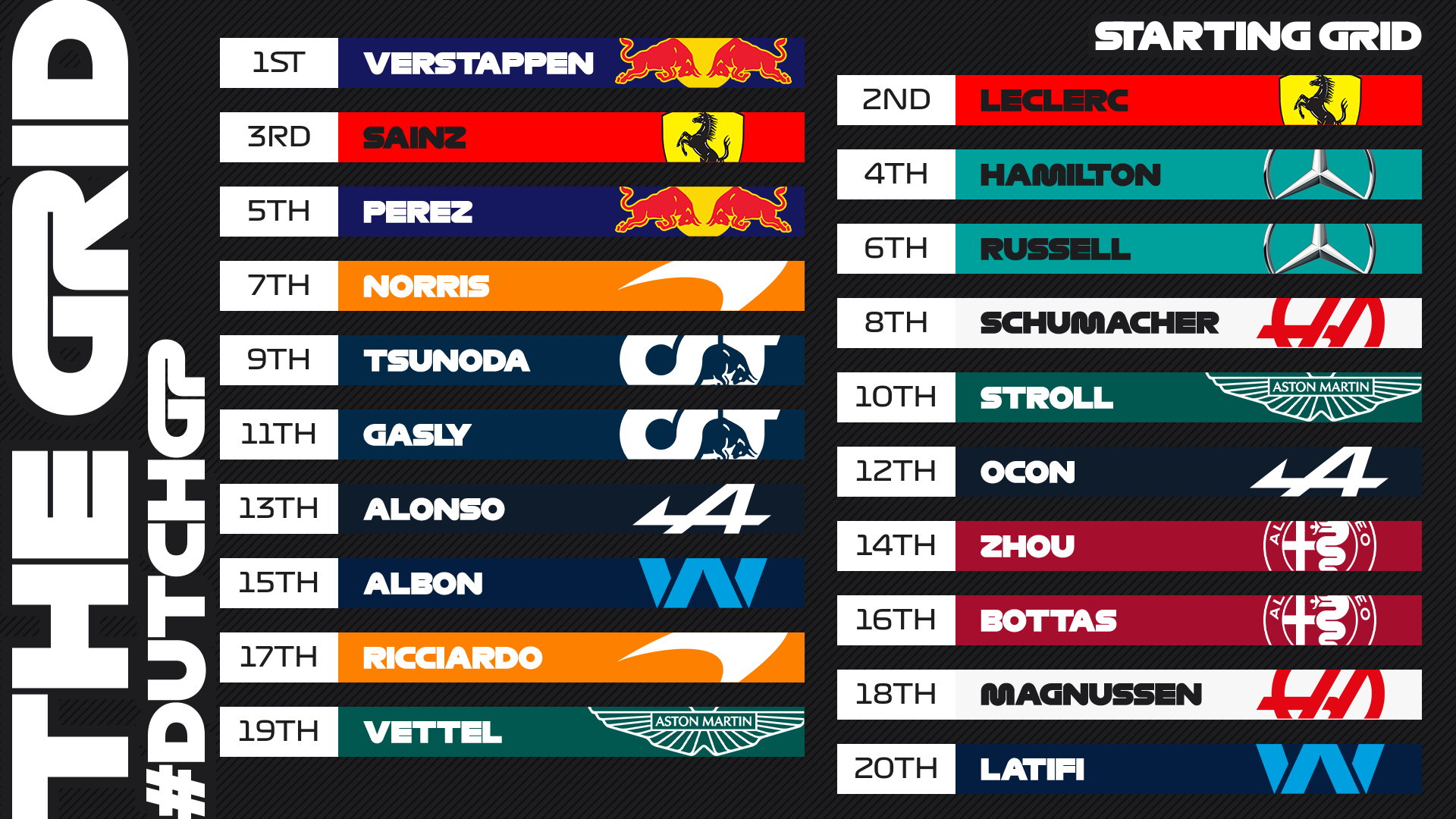 Track layout:
Global start times: